The WordPress developers below create custom WordPress blog themes. Some provide shopping cart plugins that support PayPal, Authorize.net and other payment gateways. Note that some developers create their custom themes upon frameworks such as Genesis and Thesis, which must be purchased separately.
Latest Addition: ThemeForest.net
The thing about ThemeForest is that it's not limited to an individual or single group of theme developers, it's a marketplace filled with the ingenuity of many developers and the countless awesome WordPress themes they have created. You can find just about any kind of layout and design, the latest features such as responsive design, hi resolution/retina responsive design, HTML5, CSS3, SEO features and much more. The developers represented on this site are attentive to supporting their customers and working at the leading edge of WordPress, the blogging, website building and content management system that's so popular it now accounts for 20% of the sites on the internet! Go browse some beautiful WordPress themes now!
Previous Newest addition: MINT THEMES!
Photographers and artists interested in a primarily visual site with e-commerce capabilities might like to see Mint Themes' Photostore theme.
Designed by artists for artists and my favorites as far as design, the coders at Organic Themes are also very particular about writing clean, standards-compliant code. Most of their themes are also responsive, meaning they will automatically adapt themselves to the screen of any device used to view them. That's awesome. Check out the Portfolio Theme and several others designed for other specialties that we feel would also suit an artist or photographer site well.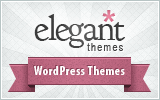 Beautiful, clean and elegant themes from who else but Elegant Themes?! Their Boutique theme works with Cart66. I've worked with several of their themes now and have found that their options and capabilities are flexible and well suited for artists sites.
DIY Themes takes great pride in their cutting-edge coding, designed to make your new site load faster, rank higher is search results and look great!
StudioPress Themes for WordPress are the creators of the Genesis Framework and also produce a variety of great "child" themes to choose from. Have a look at the StudioPress Theme of the Month.
themedy codes clean, attractive WordPress themes and a shopping cart theme called ClipCart for reasonable prices.
Woo creates terrific themes and proprietary plugins for WordPress, including a free shopping cart plugin and gateway plugins.
Press75 creates a selection of great themes, including Acquisto, a new theme that works with Cart66.
Click here to visit Press75.com.